Got Search?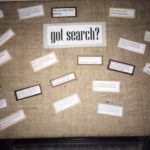 What is the essence of leadership?
Do politics belong in church?
Why do we come to services on Sunday mornings? 
If any of these questions sound familiar…you may have attended a "cottage party" where congregants have been talking about many aspects of life at First Parish.
The cottage parties are part of a year-long discernment process in which First Parish is formally engaged with the Unitarian Universalist Association to "call" our 28th settled minister.  The Ministerial Search Committee (Tom Cunningham, Katherine Jenkins, Jane Lindsay, Susan Lush, John Minahan) is working with the UUA to present a full and authentic representation of our congregation to interested candidates.
The committee, over the next few months, will be vetting candidates. This deliberative process will culminate in the congregation being introduced to our top candidate in April or May when the candidate will preach on two successive Sundays and be available during the week to meet with members of the First Parish community.
If you have questions about any aspects of the process (i.e., how do I know my needs will be met by a new minister?) or if you have any thoughts you'd like to share you're encouraged to contact a committee member. We're always glad to talk!