Got Search?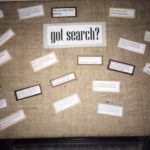 February 2019
Save the Date May 5, 2019 Congregational Meeting
May 5th will be an important date for First Parish Dorchester, as that is the Sunday that we will have a congregational meeting to vote on the call of our next settled minister.  The Search Committee has been working diligently to review applications and is now in the process of interviewing possible candidates. You will have an opportunity to meet the candidate that the Search Committee has selected during Candidating Week, which runs from April 27th- May 5th, and will have lots of opportunities to get to know the minister. This is an important time for all of us. Mark your calendars to be at First Parish and vote for our future.  Look for the official notice for this congregational meeting later this spring.
January 2019
Committee Conducts Conversations with Candidates
This is an especially exciting time for the Ministerial Search Committee as we talk with accomplished and enthusiastic candidates about their interest in becoming our next settled minister.
We have really enjoyed these Skype conversations and are now determining which of these candidates will be invited to spend a different weekend with the search committee over the coming months. In addition to being interviewed and learning more about the Dorchester congregation, these candidates will guest preach at another UU church; the search committee will be in attendance to experience the candidates in action!
All of this activity will culminate in a final candidate being introduced to Dorchester during late April/early May. The search committee will be making arrangements for the candidate to meet with members and friends of the congregation during both scheduled meetings and social events between April 27 and May 5 when the candidate will be preaching here in Dorchester.
For more information on the search process please see below – or feel free to contact Search Committee members Tom Cunningham, Katherine Jenkins, Jane Lindsay, Susan Lush or John Minahan.
---